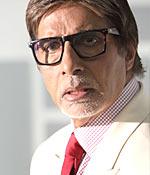 You just can't give up on
Ramu
, can you?
He's made some masterpieces of his time. Not just engaging, box-office propositions but genuine works of art. He's influenced filmmakers, the art of story-telling, value of technique, visuals, background score and timing.
Over the years, however, his oeuvre can easily be divided into two sections -- pre and post Ram Gopal Varma Ki Aag. It's like the man is constantly being pulled inside an unending abyss of mediocrity. But like I said, you just can't give up on a man like Ramu.
He could be the subject of a movie, perhaps a slightly dramatized, animated version of him like Ed Wood? Only Ramu's not a bad filmmaker just an out-of-form creative. Alas, India doesn't have a Tim Burton. Yet.
The point behind all this scrutiny is Rann, at last, promised to be something befitting from the filmmaker. And, well, it's not.
What can you say about a film where the only thing in place is Amitabh Bachchan's perfectly knotted tie?
It's like this. Stuffing falafel filling inside, a rava dosa might produce an exotic junk food fusion but confusing genre-styles in filmmaking can lead to utterly crappy results.
That's one of the foremost flaws of Rann. To think it's an idealist drama about a noble media baron (Amitabh Bachchan) unwittingly manipulated by an influential industrial-political nexus (Paresh Rawal, Rajat Kapoor sleepwalk through their roles of a corrupt politician and cunning businessman) with unconditional support of his own kin (Sudeep) to fulfill their greedy goals. But it is packaged like an out-and-out horror film minus the exorcist.
For one, everyone with the exception of Ritesh Deshmukh (emulating Big B's initial look and poker-faced confidence from Trishul), Suchitra Krishnamurthy (surprisingly restrained, fits the part too!) and Mohnish Bahl (plays it marvelously suave and sly), playing the good, bad and ugly of electronic journalism over-acts.
Pray, why does Gul Panag not screech a single line without raising her eyebrows till they cannot move up any further? Why does Sudeep play a media shark like a dope addict? Also, for a reasonably rich guy, he uses a noticeably down-market mobile model. His girlfriend's (played by Neetu Chandra) sole utility is to model sexy lingerie and keep asking 'What's wrong?' Then there's Neena Kulkarni playing the classic one-dimensional housewife we've witnessed in many of RGV's films.
Worse though is that this is not much of a Bachchan vehicle as the publicity would like us to believe. AB, like us, is clueless about what's going on and just steps up in the last few reels to shoot up the calibre of this otherwise hokum movie with his articulate presence and succinct speech. Although you can't help but wonder how come a seasoned, dynamic professional like his Vijay Harshvardhan Malik is so easily duped into carelessly breaking major news on his channel without re-confirming or consulting his high-ranking team of editors and reporters?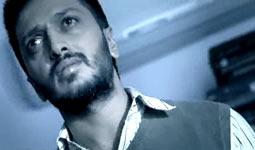 Also, while Ramu's criticism on sensationalist media is pertinent and understandable, the concern is executed with such superficial, amateurish and half-baked views, it's cringe-worthy.
Instead, the spoofy bits that make light of the existent drama rendering headlines of Hindi-medium channels are far more insightful and funny. In any other movie, Rajpal Yadav's over-the-top theatrics of a wannabe reporter would exasperate. But in this scenario, it actually works.
Coming back to the horrors of Rann, the background score is so dauntingly exaggerated and blaring, it's hard to tell shocked from spooked. And the camera (Amit Roy), it's more wayward than an untamed horse on the loose, especially when it goes on handheld mode. What's stylish or symbolic about shooting two characters, having a normal discussion, like a wild game of ping pong?
My grouse doesn't stop here. The close-ups! There are SO many of them. Fine, so our man loves to go macro on his protagonists but does he really have to make them feel like that annoying housefly on your nose?  I am quite sure a long shot is as necessary as Ramu's need to focus on Big B's biting lips, Paresh Rawal's creepy wince and Sudeep's fidgety fingers.
There are a couple of moments in Rann involving a seemingly anonymous call to super tense Sudeep or Big B coming to terms with the humiliating truth about his son are reminiscent of vintage Varma, Then again, a messy climax, witless and uninspired writing and shoddy, detail-free narrative ensure these memories are washed out as soon as they are formed.
Rediff Rating: