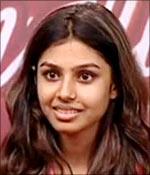 Finally, an elimination that was long overdue.
Tia Kar, the singer who managed to stay on for reasons unknown to everyone, was voted out of Indian Idol. The judges were never happy with her performance and had always asked her to improve and perform consistently. 
However, one did feel sad for the young girl because she was eliminated on her birthday. Understandably, she was in tears and completely shattered when her name was announced. 

With Tia's elimination, Bhoomi Trivedi is the only girl left in the contest. She definitely has the capability and charm to make it to the top. 
This week Salim Merchant's brother and music partner Suleiman was also present. 


The gala round had a different format. The contestants were divided into two teams. Led by Anu Malek and Salim Merchant, the teams were called Anu Ke Sherand Salim Ke Sipahi. While Bhoomi, Rakesh and Shivam were there in Anu's team, Salim had to fight it out with Tia, Sreeram and Swaroop. Sunidhi was the umpire of the game and was judging the performances. 

In line with their objective of delivering wholesome entertainment, this week's Indian Idol also saw some star cricketers from the Rajasthan Royals IPL team like Yousuf Pathan, Abhishek Rawat, Siddharth Trivedi and Kamran Khan.

The contest started with the talented Sreeram singing Ore Piya from Madhuri Dixit's comeback film Aaja Nachle. But it was not as good as his earlier performances and Sunidhi was left unhappy. The other judges, however, were happy with Sreeram. 

Shivam was up next. He sang the the title track of Fiza and showed off the power of his voice.But he could not impress Sunidhi either, as she felt Shivam has compromised on the melody of the song. This time, Salim agreed with her. 

Bhoomi belted out Ayiye A Ajayiye next but she failed to impress the judges as well. The complaints, however, were directed at her presentation. For a girl who has been exuding charm throughout the show, it came as quite a surprise. Anu Malik consoled her by saying that the audience was with her but she was visibly upset with the comments. 

This round seemed to be a disappointment for all the judges, as Tia Kar's rendition of the Aaja Nachle title song was also criticised by everyone. Since the composers (Salim-Suleiman) as well as the singer (Sunidhi Chauhan) of the original number were present, the feedback for Tia was even more valid.

Finally, Swaroop Khan got a thumbs up from the judges when he sang Tujh mein rab dikhta hai. He was so good that Suleiman said he was his Idol.
The gala round ended with Rakesh Maini's song Aye Mere Humsafar from Bazigaar. He sang it very well, and was selected as the performer of the week. Will he be the dark horse and snatch the Indian Idol title? Wait for a few more weeks to know!