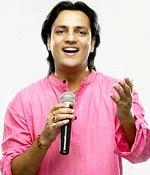 Sometimes one wonders whether Indian Idol is a talent hunt show or a carefully packaged and scripted serial.
Considering the perfect mix of music and entertainment that the show offers, one is inclined to think that it is the latter. Just like the IPL was immensely interesting and popular, despite not being cricket in the true sense of the term, Indian Idol is also extremely entertaining despite being not just music.
This in a way sums up this week's dose of what is arguably the nation's most popular musical talent hunt show. You could not take your eyes off the show, at the same time after it got over you did wonder whether you watched a pre-recorded and carefully edited serial or raw footage of a live show!
Overall it was a musical week with the contestants singing the best of Pritam numbers. It was entertaining to have Pritam on the show and also see him mentoring the contestants.
There were shocking moments too. Monday's elimination was quite shocking. No one really expected Vishwas Rai to bow out because he did have more music in him than some of the others who stayed on. But that is what the show is all about -- not just music but the X-Factor as well.
However, Vishwas seemed to have taken it in his stride and was quoted in the media as saying that he is happy to be in the first 13 more so when he was almost shooed away by a police lathi charge during the auditions.
After Vishwas' emotional farewell on Monday, Tuesday saw some high voltage singing by the underdogs -- Rakesh Mani and Shashi Suman. Not only did the two get heaps of praise from the judges, they really managed to touch the viewers across the nation.
Rakesh was soulful and sang Sab rishte naate straight from his heart. He was sporting a new look and got a lot of good comments for that as well. 
Shashi, on the other hand, was a surprise package. No one expected him to do justice to Dil Khudgarz hai the way he did. He was perfect in terms of expression, notes and rendition. So much so that Sunidhi Chauhan gave him the 'tightest hug in the world' and Anu Malik commented that Shashi was one of the finest singers in this season's Indian Idol.
Apart from these two, the regular good performers did justice to the fame they have earned. Swaroop Khan, despite having a sore throat, gave an excellent performance by singing Jee karda bhai jee karda. Apart from the regular song he sang, Pritam also requested him to sing the same number in a Rajasthani tune. He did that and one must praise the folk singer for his excellent command over voice and right harkat. So happy was Pritam with Swaroop's singing that he lifted him and carried him all around the stage. The judges aptly commented that if one looked at the way Swaroop performed, no one could realize that he had a sore throat.
Expectedly Sreeram performed well. His rendition of Tu hi haaqeqat was perfect and fully in tune, which has become a rare thing these days! The makers of the show added the emotional bit to his performance by bringing his father and sister on stage. Whatever it may be, one has to admit that the packaging is what makes Indian Idol immensely enjoyable. Like a Hindi film, it has drama, emotion and laughter!
Arpita Khan and Shivam -- the two other stable contestants -- also did justice to the name they have earned by singing above average. Shivam bagged the better comments from the judges though. Anu Malik said he was the Indian Idol they were looking for while Sunidhi called him a sweetheart.
The same judges however were not so forthcoming with Arpita and her rendition of Dhoom macha de. Perhaps because the expectations were far higher. But you have to give it to this girl -- she has a very powerful voice.
Ditto with Naushad Ali. Though he sang Aaje din chare well and reminded one of the original rendition by Rahat Fateh Ali Khan, he did not start on a very good note and frankly a better performance was expected from the most popular contestant of Indian Idol this time. The judges were quite happy with his performance, though.
However, the show had its share of disappointments as well. Bhoomi Trivedi -- the cute little girl who was looking charming in a western outfit -- charmed Anu Malik completely with her singing of Is This love. But as Sunidhi rightly pointed out, she lacked emotion while singing the falsettos. One also felt that Bhoomi went off key quite a few times. 
Tia, who was looking like a model and seemed to be enjoying the attention thoroughly, sang Race hai saanson ki. She did not do a very good job of it, though. She seemed to be struggling a lot in keeping pace and ensuring that she did not go off key. She never really got the right effect. Ditto for Manisha, who lost the rhythm midway and went completely off track. Though the live musicians continued and helped her come back, the damage had already been done. She looked nervous and there was not much punch in her rendition of Touch Me touch me. It seemed, she was too involved in getting the right look and lost the right note somewhere.
Meghna's In Dino was no great shakes either. She sang the song in a tempo that was slower than the original and thus never really managed to grab attention or get the right feel. She really needs to catch up if she wants to stay in the show.
But the disappointment of the week was Yashraj and his rendition of Dil ibadat. It lacked punch and feel and oozed overconfidence which he needs to seriously control. Attitude is good and required in a show like this. But an overdose of it can spoil you completely. That is what everyone feels about Yashraj, he has the qualities of a good singer, but needs to restrain himself.
Here's looking forward to a more music in Indian Idol next week.