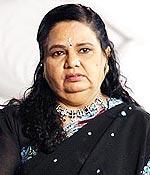 Item girl Rakhi Sawant's mother Jaya Sawant was the first to get evicted from the Bigg Boss house last weekend.
Sherlyn Chopra, Kamaal R Khan and Jaya were nominated by the housemates for eviction on the show before Jaya got the boot.
She tells Rajul Hegde about her short Bigg Boss experience.
You were a little uncomfortable when you entered the house?
Yes. But I was comfortable with everyone the next day. I could have stayed in the house for another six months [smiles].
We got to know from your daughter that you have many health problems...
Yes. But I entered the house fully prepared. I carried medicines for three months. The doctor would come everyday and check my blood pressure and blood sugar levels (Jaya is diabetic).
How was your experience?
Though I didn't stay in the house for long, it was a good experience. All of them took care of me.
When you entered the house, Kamaal Khan was against you. What do you think was the reason for that?
I have no idea. Mein kya janu kaun Kamaal Khan hai? When I met him, I was shocked to know that it's the same guy who played the role of a hero at the age of 50. He is more suited for the role of a father.
Did any other housemates' behaviour upset you?
Yes, the girls, especially Tanaaz's behaviour. They would always laugh when I was around. Once I asked them what was so funny and they told me that aap bhajiwale ke jaise votes mangti ho, jaise woh chilla ke bhaji bhaji bolta hai. What they said hurt me a lot. I cried in the toilet that day.
What were you thinking when you entered the house?
I entered with the intention of staying there for three months. When we entered the house on Saturday night, we had food and slept soon after. The next morning I was thinking of how to start a conversation with the housemates. I decided to see their reaction first and then act accordingly. But then Bigg Boss called everyone for the nomination. 
Who were you closest to in the house?
Vindoo (Singh) was like my son, Rakesh. He behaved like my son too. He would kiss and hug me all the time. I got lots of love from him and I would like to request the audience to vote for him. Rohit Varma also took care of me.
Do you think your stint in Bigg Boss will help you to reconcile with your estranged daughter?
[Smiles] I heard that Rakhi has been keeping a close watch on the show. I am very happy that she has been enquiring about me since the time I entered the house. I want to thank Jesus for it. I will go and hug her first and hope that we stay together.
Why do you think she turned against the family?
It was all because of her ex-boyfriend Abhishek Awasthi.
Do you think Rakhi will marry Elesh Parujanwala?
I think they make a good pair and I will help her if she wants to settle down with him.
Who do you think will win Bigg Boss 3?
I think Shamita Shetty. She must have got some tips from her sister Shilpa. Or Raju Srivastav.
What was the thing that you missed most in the house?
My family. I missed them a lot.
What are your plans after Bigg Boss?
I will take up any good project that comes my way.