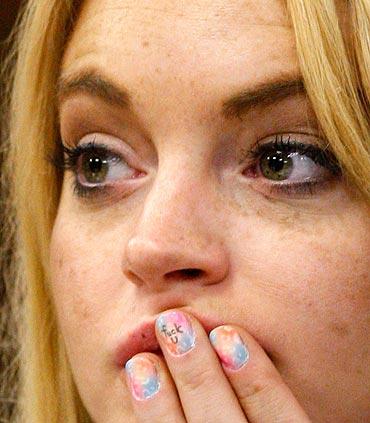 Troubled Hollywood starlet Lindsay Lohan has been released from jail after serving 13-days of a 90-day sentence.
The actress was released at 1:35 am (local time) on Monday from the Lynwood Regional Detention Facility in Los Angeles, but that did not end her legal saga as she had to head straight to a court ordered rehab facility, reported American website TMZ.
Los Angeles County Sheriff's Department spokesman Steve Whitmore announced that the Mean Girls star has been released from jail following good behaviour and because of overcrowding at the facility.
The 24-year-old was kept in a sequestered unit of the woman's prison since July 20, which has housed other celebrities like Paris Hilton and Michelle Rodriguez.
Lohan, who was jailed for violating probation on a 2007 conviction for driving under the influence, is now at a substance abuse treatment centre, the location of which is being kept a secret.
TMZ reported that Lohan will now go to the UCLA Medical Centre for an intense specialised programme to deal with psychological as well as a addiction problems. Earlier it was reported she was due to check into Morningside Recovery rehab centre in Orange County, California, as soon as she was released.
On Sunday Lohan's lawyer hit back at claims that she is to be treated for addiction to Methamphetamine and bi-polar disorder during her court-ordered 90 days in rehab. But Lohan's lawyer attorney Shawn Chapman Holley told RadarOnline that her client is not a meth addict.
"Lindsay isn't a meth addict. I have no idea where that came from, but I can tell you, it's false," said Holley.