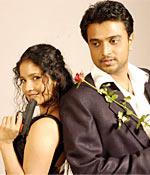 Shruti Indira Lakshminarayana reviews the Kannada film, Preeti Hangama. Director and actor Vivek Raj debuts with Preeti Hangama, a romantic comedy also starring Shuba Punja as his leading lady. 
Vivek is an ambitious advertising executive trying to land a diamond advertisement project. In order to do so, his boss wants him find a girlfriend so that he can understand the psyche of a woman better -- all that jazz about a diamond being a girl's best friend. 
He finds an easy bait in Shuba, a journalist working for an upbeat magazine. A dinner and film date later, the two are a couple. So what becomes of Vivek's mission? And what about the girl? Is she really in love or is she working undercover for a story?
The unimpressive beginning comes as a good enough warning for what is about to follow. Multitasking is obviously not Vivek's cup of tea and he would have probably made a noticeable start if he had just concentrated on acting.
There is nothing fresh about Vivek's story or screenplay, either. In fact, the story in places reminds you of a few Hindi and English chick flicks.
The film in the first half is set in an urban locale while in the second half it shifts to a rural setting. This is how the director tries to bring in 'nativity' to the movie. 
If a forced fight sequence and not so funny  'jokes'  make up the first half, the second is full of family sentiments. 
As if the songs that come and go at the drop of a hat were not enough, there is an overdone police station scene. Urvashi fails to impress in this loud scene. 
Another scene that is 'funny' is the one in which an article by the leading lady appears in a Kannada publication when she is shown working for an English magazine!
Shuba Punja has two sides to her character. However she brings out her traditional side better than the glamorous one. She has time and again shown her acting prowess, but this time even she cannot save the film.
Ananth Nag, who plays Vivek's father, carries off the role with ease.
In a nutshell, this 'hangama' is best avoided.
Rediff Rating: