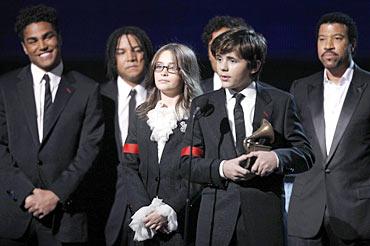 Michael Jackson's children -- Prince Michael, 12 and Paris, 11 paid tribute to their father at the 52nd annual Grammy Awards in Los Angeles.
 
The two kids also offered heartfelt thanks after a performance by Jennifer Hudson, Celine Dion, Carrie Underwood, Smokey Robinson and Usher honouring their late father.
The stars participated in a virtual collaboration with the late singer, singing the environmentally-themed Earth Song over a 3-D film background (free glasses were distributed prior to the event via Target stores), reports NJ.com.
Image: Paris Jackson and Prince Michael Jackson accept an honorary Grammy on their father's behalf.
Photograph: Mike Blake/Reuters