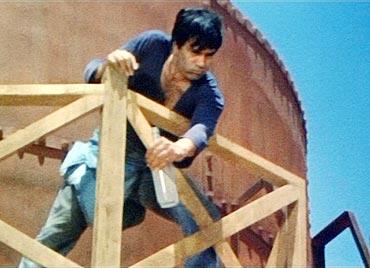 We
asked
readers to send us their favourite and funniest Bollywood
bloopers
they spotted.
Reader Jeetendra A Rane shares with us a blooper that he has spotted from the film Sholay .
In the movie Sholay, there is a water tank situated in the middle of the village from where Dharmendra tries to commit suicide.
But if you recall, Jaya Bachchan is seen lighting the lamps every night which means there is no electricity in the village.
So how is the water pumped into this tank? Or was the tank there only for suicides?
Good observation, Rane!
Also Read: When Big B, Aamir Khan goofed up!