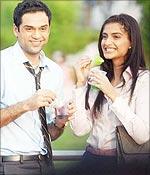 Raja Sen reviews music of Aisha
Deck the halls with boughs of holly, because Amit Trivedi, the most promising Indian composer, is back with the soundtrack of Aisha, and boy is it a doozy.

The album opens with Suno Aisha, a song that instantly throws you off with a fast, be-bebop array of almost-discordant sounds. They clash into melody soon enough, and the vocals -- by Ash King, Nakash Aziz and Trivedi himself -- shuffle charmingly around the basic, even banal lyrics. The flavour might be bubblegum, but there's enough texture here to call this a pretty tasty title track.

This is a Dilli-Punjabi movie, and Gal Mitthi Mitthi starts off sounding like something left over from the Oye Lucky! Lucky Oye! soundtrack -- and Trivedi knows that's a compliment. And while the song sung by Tochi Raina starts off sounding basic, a huge shot of bass kicks in a minute into the track, and we realise the composer is subverting club-Punjabi traditions without showing off. Well worthy of repeat listening, this one.

Sham starts off very pleasantly indeed, an alt-rock style guitar ballad that evokes a floating feeling. The vocals -- by Nikhil D'Souza, Neuman Pinto and Trivedi again -- are perfectly suited to the song, unconventional and keeping things unpredictable. The strummed along ha-ha-ha chorus is beautiful, and again Trivedi uses the song's plain words to his advantage, letting the song's feel overshadow everything else. It changes gear briefly, the guitar running into showy overdrive, only to return to it's mellow boom-boom roots. Verry nice.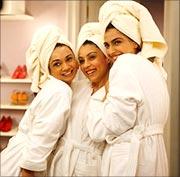 Next up is Behke Behke, with Anushka Manchanda leading a parade of interesting singers around a track as complex and as fun as a circus. Accordions, castanets and much fanfare start off the superbly layered track that bounces from a salsa chorus to a string of hip-hop, the song flips through a scrapbook of styles while the groove remains consistently dancefloor. Whimsical, heady and thoroughly fun, this song is pure addiction.

Anusha Mani does an excellent job singing Lehrein, a song that seems like a standard romantic lament before it intoxicates you -- and it gets you good. Trivedi plays to the singer's strengths and she delivers breathy and sensual vocals while maintaining the song's simple sweetness.

Trivedi is one of the few Indian composers who understands the power of a well-struck power chord, and he shows full-on guitar love in By The Way, a song that could have been from the 1980s. With more than a slight Pretenders influence, the shiny-happy song is a polished, pure pop effort that stays significantly amusing. Anushka croons it okay, but what carries this song forth is its giddy, enthusiastic energy, the song careening along as if slowing down would make it trip over its own shoelaces.

As is custom nowadays, the album ends with a couple of remixes, a Dhol Mix of Gal Mitthi Mitthi that effectively robs the song of its freshness, and the Lehrein Lounge Mix increases the echo and turns a haunting song into an insipid one. But let us not blame the composer for these DJ-driven transgressions and the vagaries of Bollywood producers.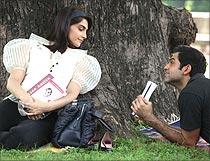 The fact is that this is a fresh, very cleverly built album, my only major criticism of which is that it ends too soon. It's 25 great minutes, but they leave us longing for far more.
Trivedi is an unquestionably talented man, and while this soundtrack lets him scratch the surface and show off some serious skills, it doesn't seem to let him really explore the film's theme as deeply as he could have.

What really does stand out in Trivedi's work is a defiant lack of attention to lyric. The best composers in the industry have either Oscar-winning poets writing their words or quirky ad-men crafting makeshift metaphors or even young bespectacled directors knowing what their songs should say: Trivedi seems to have none of this in Aisha, and yet gives us a very enjoyable, very young soundtrack with a distinct voice. His music -- in fact, the feel of his music -- does its own talking, and I recommend you listen to it awhile.
Rediff Rating: