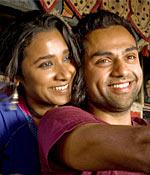 As the end credits of the delightful, visually stunning and life-affirming Road, Movie was rolling at the Toronto International Film Festival (TIFF) last September, a journalist thought he detected a typo. A very old song called Sar Jo Tera Chakraye featured in the film was credited to R D Burman, not his father, S D Burman, who composed the original music in Guru Dutt's Pyaasa.
But the journalist would soon know from the film's writer and director Dev Benegal that there was no typo.
The fans of R D Burman or Pancham, as he was fondly known, should be rejoicing that 53 years after he composed the tune and 16 years after his death, he finally gets the long due credit -- and that too in a film that could be the first sleeper hit of the year.
With an excellent world of mouth, the Benegal road movie could have a long journey. For it is one of those few art films that are very earthy and can touch anyone. The Pancham melody and the accompanying scenes are important to developing the film's narration.
Pancham's fans have long suspected that the feisty tune composed by him was fine-tuned by his father. In fact, it was one of the dozen songs -- according to Pancham's wife Asha Bhosle and friends -- that he composed for the father which received the latter's own touch and embellishments. 'Pancham was too shy to ask for the credit and it did not strike Dada (S D Burman) to give Pancham the credit,' Asha had said in an interview many years ago.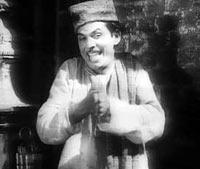 Sadly, no one associated with the classic song is alive now -- not S D Burman, not the lyricist (Sahir Ludhianvi), not the singer (Mohammed Rafi), nor the film's iconic director-producer (Guru Dutt). Even Burman's assistants like the composer Suhrid Kar have passed away.
Dev Benegal was born three years after Pyaasa was released in 1957. He uses the song extremely well to enhance one of the story strands in Road, Movie.
'It is such an iconic song and it is, in fact, like a character in my film,' Benegal said in an interview at the TIFF. 'I grew up listening to the song for many years.' He added that he had heard long ago that it was actually a Pancham composition. He liked the energy in the song that would later become a characteristic of Pancham's music.
So Benegal called the producer's son Arun Dutt, who distinctly remembered his father saying that it was indeed an R D Burman composition. The filmmaker had no problem getting the permission to use the song and footage from the classic movie. The rest is an act of restoration of credit.
Road, Movie stars Abhay Deol, Tannishtha Chatterjee and Satish Kaushik, and will release this Friday.