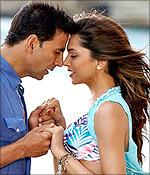 Like most XL-sized entertainers with modest brains yet abundant gimmicks, Sajid Khan's Housefull, too, has tons to offer.
And so big stars flaunt their tanned brawns, shapely beach bodies and nutty comic skills to indulge in this lavishly-scaled tomfoolery set in UK.
Similar to Khan's previous outing, Heyy Babyy, this one also features Akshay Kumar leading the brat pack while Ritesh Deshmukh and Arjun Rampal volunteer to play the indispensable sidekick. Not to forget Lara Dutta, Deepika Padukone and Jiah Khan bringing in the glamour and gloss.
Scheduled for an April 30 release, Housefull is about a guy caught in a curious, comic situation wherein all his three wives share the same roof owing to some inexplicable mix-up and how it triggers off a series of wacky events.
Whether this seemingly goofy plot evokes a side-splitting response in cinemas remains to be seen. Meanwhile its soundtrack Shankar-Ehsaan-Loy, against Sameer and Amitabh Bhattacharya's lyrics, is out in the stores.
The composer troika seldom disappoint when it comes to pop or pep. Even for an unpretentiously commercial fare like Heyy Babyy, they scooped out some genuine soul. Housefull, however, doesn't demonstrate this attribute. To its credit, the album starts out with spunk but loses ground soon after.
A whiff of accordion, the kind you associate with European alfresco visuals, makes it presence felt on and off throughout the otherwise synthetic yet funky beats of the effortlessly catchy Oh girl, you're mine. Hummed stylishly by father-daughter duo of Loy and Alyssa Mendonsa (the exhilarating voice behind Karthik Calling Karthik's Uff teri ada) along with the pleasantly husky Tarun Sagar, the trippy track bounces off the usual tripe of love-you-like-crazy-I swear. But S-E-L's snazzy treatment ensures it works and bears enough repeat value until the next one of this ilk comes along. It comes in a remixed pack as well. DJ Whosane is at helm of this accelerated-to-the-point-of-distraction edition.
The man behind racy chart-climbers like Hare ram (Bhool Bhulaiyaa) and Love mera hit (Billu) – Neeraj Shridhar is joined by Amitabh Bhattacharya and Ritu Pathak to croon the flirtatious Papa jag jayega. Despite its rather situational temperament – a couple vying for some nighttime rendezvous while dodging a certain Daddy uncool, Papa sends across foot-tapping vibes thanks to a nifty arrangement and animated playback efforts from the afore-mentioned trio. Although its recurring 'toing-toing' pattern bears strong resemblance to the one in Pyaar karke from Pyaar Ke Side Effects. Liked it enough for encore? Head for the Insane Insomniac mix of the same.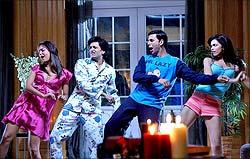 Some songs are innately dishy. Remember Bachna Ae Haseeno? Even its spruced up remix was much-appreciated. Ditto for Lawaaris' Aapka kya hoga. The unabashedly flamboyant number created by Kalyanji-Anandji 20 something years ago makes a comeback in a pumped-up avatar, courtesy Mika's characteristic sauciness and Sunidhi Chauhan's sensual rasping while retaining the fiery essence and orgasmic moans of the original. As an aside, Aladin's demure new-face, Jacqueline Fernandez reportedly beat the likes of Sushmita Sen to shake a leg on this coveted item song.
Truth be told, Housefull reaches its peak as a musical compilation at this point. What follows next are a bunch of bland concoctions that neither excite nor entice.
As if echoing the dilemma the listener is facing the next track is aptly titled, I don't know what to do. Sunidhi oozes oomph as usual to convey the turned-on state of her protagonist even as Shabbir Kumar (the high-pitching, piercing singing voice of Sunny Deol in Betaab) plays coy. There's nothing doable about this one. Although its remix -- Shabbirs Sexy 70s mix sprinkled with some unmistakable Biddu-effects fares marginally better.
Housefull wraps up on a Hinglish note with He's such a loser. The tune begs to suggest an element of noir what with Vivinenne Pocha employing her sinewy siren cry to hypnotic effect only to awkwardly mouth ill-fitting ones like, 'You're such a panovati.' Not quite, this.
A mixed bag of zippy and wishy-washy, there's nothing full-filling about this House.
Rediff Rating: