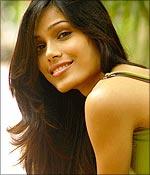 Freida Pinto's publicist has dismissed reports that the star is set play the next Bond girl.
Pinto's official spokesperson in India [ Images ], Divya Tejuja, has said that the Slumdog Millionaire [ Images ] star will not be playing Daniel Craig's [ Images ] love interest in his third 007 installment, Bond 23.
'It is of course very flattering to even be rumoured to be part of a Bond film but she has certainly NOT been approached for the role of the next Bond girl opposite Daniel Craig as yet,' the New York Daily News quoted Tejuja as saying via email.
Bond 23 will be released in 2011 and is set to take place in Afghanistan.