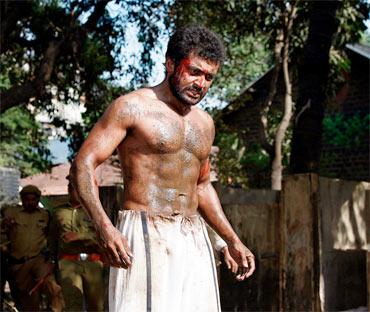 Yes, that's Ram Gopal Varma's nickname for Tamil actor Suriya.
The film maker was so impressed by the intensity of the actor's eyes that he gave him the nickname, Mr Eyes.
The actor is starring in RGV's Hindi movie Rakta Charitra. This is Suriya's first Hindi film. He plays an extremely serious character Maddelacheruvu Suryanarayana Reddy alias Suri in the movie.
RGV had written in his blog, 'The feelings in Suriya's eyes are like a seething volcano erupting through a rough sea. In some close-ups in "Rakta Charitra", I felt that the intensity in his eyes would burn the camera. I find it difficult to understand what emotional depths and sensitivity Suriya as a person could have experienced in life for him to be possessing so much within his eyes for him to be able to convey such tremendous intensity through his eyes. His eyes don't just speak... they literally scream. Purely for want of a better word to describe the effect I am feeling as a director as I see his eyes through my camera, I want to call him Mr Eyes.'
But now after seeing Suriya's physique while shooting the movie, RGV has a new nickname for him, Mr Body.
The director in his new blog raved about the actor's body, 'It would be any director's dream to have an actor with a combination of intensity in facial expressions and a mind-blowing body to go with it. Most of the time there will be actors with good bodies but they can't act and then there will be very good intense actors who cannot dare to take their shirt off. Only in Suriya I found this never before seen combination of an extraordinary body coupled with an extraordinary intensity in his facial expressions.'
RGV further added that this was the first time he enjoyed shooting a man's body. 'Initially we planned to shoot a fight at a certain time. The day before the shoot, Suriya asked me whether we could do it after a month. I asked, "Are you mad? How can your body be better than what it is now?" He simply said, "Just trust me". I postponed the shoot only because he requested me to do so but when he came back after a month, I was zapped to see the improvement. My reputation is that of shooting a woman's body sensuously but this is the first time I enjoyed shooting a man's body and the credit goes to Suriya's determination, spirit and his constant strive to better himself.'
So from Mr Eyes to Mr Body, that's quite a journey for Suriya!