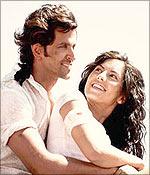 By the time you read this, men and women around the globe who drool over Hrithik Roshan are parading in the streets, dancing in the confetti of used ticket stubs even as they stand in line for another ticket.
Anurag Basu's Kites -- a slickly shot film about how pretty Roshan can look even when dusty, bleeding and miserable -- is just the thing for fans of the star. For the rest of us who might want more from a film, like characters, pace or even a plot, here's just another experiment.
Yes, I said experiment. Because while this is pure popcorn, it's not the popcorn you were expecting. Kites moves drastically away from tried and tested Bollywood formulae... and straight into a Hollywood masala template: Attractive yet mismatched people in the midst of mayhem, falling in love against all odds, the kind of thing playing right now on three movie channels.
Except, in this version, Matthew McHrithiky is a bit of a crybaby. Yup, it's a standard-issue Hollywood actioner, laced with bucketloads of tears and overwhelmingly high-octane background score. Actiomelodrama?
Then again, facts like the leading man's jawdropping dancing skills might as well be the whole point of the film, this plotless star-vehicle that careens briskly enough, but through a story so simplistic that it never quite grabs your attention. You watch initially with hope -- based on Basu's natural ability to create characters relatable enough to resonate with us -- and then -- as you see characters never compelling enough to really matter -- you watch with morbid fascination, like watching a trainwreck in slow-motion.
You know it's going very, very wrong, but it's so hard to look away.
The film is about a Vegas resident named J Ray (Jimmy? Johnny? Who wants to know?), an unscrupulous dollar-chaser who rents himself out as a green card husband to off-shore women seeking shade alongside other tiredpoorhuddled 'merica-loving masses. Anything for a buck seems about right, and when he finds a casino owner's daughter (an under-used Kangna Ranaut, only used to reference the director's far superior Gangster) drawn to him, he feeds her loving lies only too gladly.
All goes swimmingly until he meets her brother's betrothed, a stunning Mexican girl who happens to be one of his 11 'wives,' the only one who made an impression. (Cue slow-motion.)
All hell predictably breaks loose, and it does so with showy enthusiasm. Guitars wail excitedly as Beetles are toppled, hot air balloons mounted and gunfire averted. Cinematographer Ayananka Bose has a blast and manages to keep the frames energetic and fluid, while every now and then Basu throws in a characteristically lyrical shot, as if to remind us that he's making this film, despite what it may look like.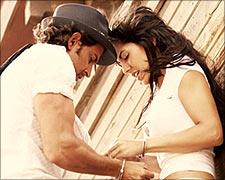 But abrupt, choppy editing only serves to highlight the lack of story. Kites starts off well enough, but loses itself in a mess of superficiality, which would have been just fine if the film wasn't also masquerading as operatic drama. Tragedy is robbed of its grand strength if we don't care about the people who love and lose.
To be fair, the lead actors do solidly, making the film watchable. The much-discussed Barbara Mori has an infectious grin, an earnest charm, and speaks Spanish with a breathy accent rendering her Ts and Rs worthy of immediate adoration. She emotes strongly, and looks great alongside Roshan, who not just has commanding screen presence, but shows himself capable of brooding intensity as well as silent, happy moments.
Unfortunately, Hrithik's been parlaying his light eyes and Roman jawline into an ambiguous, androgynous pseudo-European appeal for a while now. He's been doing the same bit in advertisements for so darned long that the aforementioned silent moments of this film -- where he enchants the girl via shadow puppetry, for instance -- are themselves overshadowed by the pesky thought that a packshot of faux-Italian cookies will pop into frame. It doesn't, but the moment's potential charm fails to make up for its simplistic lack of originality.
Hrithik's main problem, however, in this film that is essentially his showreel to the West, isn't the silences. He handles those well enough, and delivers his Hindi voiceover with sincerity. His English, regrettably, falters as he pours on the accent, trying far too hard to be an American hero in a film that could really have benefited with earthier, more believable intonation, instead of a wannabe twang.
For it is a story about language, you see. About lovers who don't speak each others tongues, yet look into each others eyes and find enough familiarity in each other's cadences that they miraculously always understand and are understood, flawlessly. So much so that when a character speaks in Spanish to Mori, she looks blank until Roshan translates it into English -- a language she doesn't understand -- for her.
Clearly these two starstruck romantics have eyes that talk louder than their tongues, but we as an audience aren't as blessed, and liable to cry foul. In whatever language we can.
Rediff Rating: