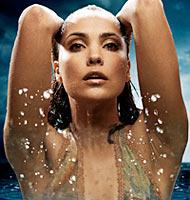 Blue, directed by debutante Anthony D Souza, sets a new benchmark in Hindi filmmaking.
It boasts of some stunning underwater photography, the likes of which you may not have seen before in an Indian film (Peter Zuccharini -- Pirates of the Caribbean). It has some scintillating action sequences (James Bomalick -- Die Hard 4, Mr and Mrs Smith) both on the ground and underwater, superbly shot.
And the film is a warning to all those women who boast of their so-called bikini shots. Lara Dutta shows you how to wear the two-piece, and look like a goddess of the sea.
Now that we are done with the pleasantries, here's what you actually need to know about Blue. It sets a new benchmark in squandering money and opportunity.
This film is an example how even with Rs 100 crore -- the reported budget -- worth of eye-popping gimmicks and stunts, you can make thriller that ends up being hilarious.
And that's largely because of the ridiculous plot, the inane dialogues and plain bad direction.
Akshay Kumar plays a rich man in the Bahamas who loves his women and the good life. He befriends Sanjay Dutt, a fisherman/diver who lives in a sprawling designer bungalow and flaunts a glamorous wife (Lara Dutta). There are vague references to Dutt's dark memories about a sunken ship.
Meanwhile, Dutt's brother Zayed Khan gets arm-twisted by some goons in Bangkok so he lands up in the Bahama's, leaving his girl (Katrina Kaif) behind.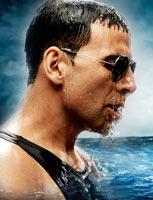 The characters live in a world of item numbers and yachts with bikes and jacuzzis on them. And Lara Dutta frolics in the sea looking like male fantasy personified, before she is kidnapped by Bangkok baddie (Rahul Dev) out for revenge.
Eventually, they all need money to get Lara back. And Akshay convinces the motley crew to go hunt for treasure in the sunken ship from Dutt's dark memory.
The plot is supposed to be full of clever twists and turns, but is nothing but preposterous. It is meant to be a razor-sharp adrenaline inducer, but throughout the nearly two-hour film you get the feeling as if you are watching an extended music video with snatches of National Geographic footage.
Almost all of the first half, the director takes you through sunny Bahamas and neon-lit Bangkok, and tries to establish a relationship of sorts between the lead characters.
The much-touted treasure hunt, which was allegedly at the heart of this film, comes and goes before you can say 'Blue'.
When it does appear at the tail-end, it reveals the kind of jewellery you'd seen on TV during the days of Mahabharat.
The dialogues are unbelievably juvenile.
Akshay says, "Chal treasure nikalte hain," as if he's talking about ice cubes in his freezer. In the midst of a fierce gunfight when she almost gets killed, a hapless Lara Dutta asks her husband, "Batchit karke suljha nahi sakte?"
The actors must have expended all their energies in the underwater sequences. They look exhausted and uninvolved delivering their dialogues.
Akshay Kumar wears some cool suits (designer Narendra Kumar Ahmed) and sports a grey goatee. That's all.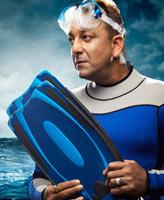 Sanjay Dutt -- who wears sunglasses the first thing when gunmen attack his house -- looks flabby and flabbergasted, and seems unsure of what to do with the sizzling Lara on his arms.
Zayed Khan gets to ride some hot Ducatti motorbikes and exchange very strange, stilted dialogues with Katrina Kaif ("special appearance").
And finally pop star Kylie Minogue makes an appearance, shaking her booty to the weakest song of the soundtrack.
The film has some cool songs, but a disappointingly weak background score. Maybe with the right kind of background music things would have looked up.
Blue was supposed to be a thriller. But if you made Captain Haddock of Tintin fame watch it, I am sure he would exclaim: Blue blistering barnacles!
Rediff Rating:

(Strictly for the stunts and photography. The film scores negative in all other departments.)