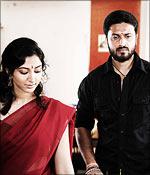 Shruti Indira Lakshminarayana reviews the Kannada movie, Deadly 2.
"War is their ritual" scream out the posters of Deadly 2 and there couldn't have been an apt one line summary of this underworld drama. After Deadly Soma, director Ravi Srivatsa and actor Audithya team up again for this film.
Soma (Audithya) is a talented cricketer-turned-underworld don. An incident where Soma is asked to cough up a    10 lakh bribe so as to be included in the state cricket team turns his life upside down.
Not only does the selector leave out Soma's name from the final list, but also refuses to return the money. What ticks off Soma even more is a swear word uttered by the selector. In an impulsive act of rage, Soma kills the selector and thus begins his tryst with the Bangalore crime scene. 
Soma having emerged as one of the most wanted criminals, is on the hit list of police officers Ashok, Mani and Ugrappa.  Does he fall to their bullets? And is there any connection between him and the Soma in Deadly Soma? Let's leave that for you to find out.
In true Ravi Srivatsa style, bullets and bloodshed do the talking. Audithya enters the screen almost 20 minutes into the film and with him comes in heavy duty action. Deadly 2 also plays heavily on the mother-son sentiments and Suhasini Maniratnam, who plays Soma's mother justifies her presence well. She, as a mother who takes the law into her own hands to avenge the system that "wronged", her son puts in a brilliant performance. The climax scene in which she questions the logic beyond encounters is her best scene.
Devraj and Ravi Kale as police officers put up a good show. There is a good give and take between Audithya and Devraj in one the scenes in the second half.
While Audithya looks the part of a criminal, he could have done better in the emotional bits. Meghana plays Soma's dumb girlfriend. She has very little to do in the film. Cricketer Sayed Kirmani plays a guest role.
Dialogues are crass at most places and slangs dominate the film. However the film despite having 131 scenes, moves at a brisk pace. There being just one situational song works as an advantage.
Ultimately Deadly 2 is for those who are up for seeing non-stop glorification of violence.
Rediff Rating: