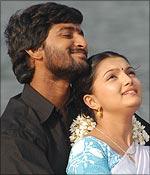 Films dealing with sports are a rarity and Bheemili Kabaddi Jattu (remake of the Tamil film Vennila Kabaddi Kuzhu) puts kabaddi under the spotlight. It fuses the sport with human emotions and is realistic to a large extent.
Since kabaddi started off as a sport in rural India, it is natural that the film is set in bucolic environs, in the village of Bheemili. The film also provides a peek into the lives of the rural people. Director Tatineni Satya, a debutante has recreated the rural atmosphere, weaving in emotions and the sport well.
Suribabu (Nani), Ganesh, Shekhar, Amar, Paidi and two others belonging to different stratas of society are passionate about kabaddi. Suribabu loses his father when he is young and is forced to work in a zamindar's house. However, he nurtures his passion for kabaddi and joins a team.
He wants to see his mother eat a proper meal in life (as she lives practically on gruel). When he visits her once in a while, she spends some money and makes chicken curry for him but Suri invariably points out some mistake in the curry and washes his hands so that she gets to eat it!
Each of the boys has something or the other at stake and have to prove themselves -- two are chided by their fathers, one is always taunted by the mother-in-law, and Suribabu has to ensure a good life for his mother. The team always loses to their opponents and they have to prove to the villagers that they are good players.
Suribabu runs into a girl (Saranya Mohan) in the village jatra (fair). He doesn't even know her name but falls in love with her as she proves to be lucky for him.
The gang goes to Rajahmundry as they are told there is a kabaddi match. When they reach here, they are debarred as it's a state-level tournament. But, when one of the district team backs out, a coach called Prakash who has seen them play vouches for them.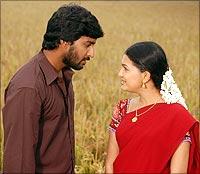 Thence, the film is all about the kabaddi tournament and it is gripping.
Nani perfectly fits into the role of Suribabu and has done a good job. A thumbs up to him for selecting the script. All the other actors (including coach Prakash) too are natural. Saranya Mohan as the innocent college student is apt for the role. She brings in a certain warmth.
The film is heartwarming and poignant as it deals with human lives and emotions. There is a natural feel to the film. The comedy is largely inbuilt and genuine.
The end is a bit unexpected and takes one by surprise.
Director Satya has made a good debut though he did have the Tamil film Vennila Kabaddi Kuzhu as reference. He has assembled a good technical crew as well. The camerawork by Chitti Babu captures the mood well and sets the tone of the film. Selva Ganesh who makes his debut as a music director has composed some different tunes which are sonorous on the ear.
Bheemili Kabaddi Jattu scores high marks as it's a realistic and touching tale. It's not often one gets to see such films!
Rediff Rating: