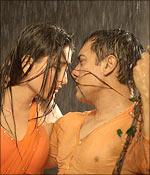 The reviews are up. The box office verdict is out. When I was asked to write about 3 Idiots, I wondered what more can I probably say about a movie that's already running super successfully in cinema halls since the past five days?
Then I saw the film.
Here's the thing -- viewer to viewer. I enjoyed it thoroughly and I am quite certain so did a lot of you. Only for me, 3 Idiots is definitely more than a movie. No, not in the Avatar kind of awe-inspiring, out-of-body experience but because any film that connects to a lost memory or takes you back to a forgotten time or face is special in my book.
It reminded me of a diary I had written, back in 2001: I am not a rat (one of the running themes of 3 Idiots).
It also reminded me of an Idiot I had the good fortune of knowing.
A decade ago, I knew a boy just like Rancho (Aamir Khan). He was in my Botany class. Unbelievably sharp and irresistibly charismatic, he was nonchalantly unorthodox in his ways -- be it his nerdy attire (which, by the way, does not read thick glasses and dowdy clothing) or his ability to fluster any teacher with his curious queries and flawless arguments. The latter often meeting with the same sheepish response as Rancho gets from Professor Viru Sahastrabuddhe (Boman Irani plays a convincing, intimidating monster we've all encountered mouthing lines we've all heard before) -- 'I'll get back to you on this.'
Somehow watching him with any of my other classmates always felt like a scene out of Panchtantra -- Sage Vishnu Sharma lecturing the King's three stupid sons (Interestingly the film's tagline says: Don't be stupid, be an idiot. Heh.) While he may not have influenced my career choices like Rancho does with his pals -- Raju and Farhan -- he did earn a sense of awe from each and every one of us. Today, he's teaching in his own school in Shimla and actively propagating the cause of environment preservation.
Coming back to 3 Idiots, Rancho is the leader of the idiot brat pack along with Farhan (R Madhavan fits the part to the T) and Raju (Sharman Joshi). They get drunk, make merry, deal with their oddball families and unfailingly terrorise teacher's pet, Chatur Ramalingam (Omi Vaidya, one of the best performances in the movie, the man's a droll) to the hilt.
Like Rancho, Farhan is quite close to home as well. Only the guy I relate him to realised he doesn't want anything to do with engineering after he had worked in a high-profile MNC for a year. He dropped it all to pursue a career in wild life photography. Everyone thought he's committing professional hara-kiri but, like Rancho's motto, kick ass and simple, 'Excellence ke peeche bhaago, success jhak maarke apne aap peeche bhaagegi.' Luckily, Farhan realises this before it's too late and convinces his folks in a sweet yet straightforward manner.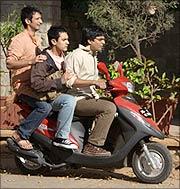 Against this spirited comparison, Raju (Sharman Joshi should take a break from whiney roles) comes across as somewhat of a melodramatic burden with his baggage of jarring sentimentality and overbearing superstitions. He's like a gutless descendant of all the Jimmy Shergill characters in the Munnabhai series. And so when he tries to go a new leaf, rendering inspired dialogue-baazi on a wheel chair at a job interview, it all seems too far-fetched to assimilate.
There are passing moments when the film slips into clichedom and you wish it hadn't. While Hirani pulls off the impossible -- Aamir delivering a baby on a ping-pong table with the help of a (in all probability an unsterilized) vacuum cleaner while Kareena Kapoor (it's a brief part but the luminous actress infuses it with the goodness of a quintessential Hrishikesh Mukerjee heroine) directs him on youtube. Gosh, how preposterous it all must have sounded on paper? This, to my own surprise, I had no problems with. The gimmick Hirani employs to get the baby kicking, however, is flimsy. Luckily all this happens so late in the film, you go 'Tch kya Hirani? But what the heck!'
Hirani and Ashutosh Gowariker are easily two of the most morally-upright and emotionally-dictated filmmakers of these times. And so it's only natural their films veer towards unrealistic territories some times.
It's not like 3 Idiots aspired to be a Dead Poets Society anyway. For all its well-meaning remarks on the currently unimaginative state of the education system while celebrating its merits (through Rancho's radical vison), 3 Idiots is a full-on commercial entertainer with boisterous songs, romanticised idealism and jaunty buffoonery -- traits we have always adored Hirani for. What's even more rocking is the climax. FINALLY, a film that knows how to wrap up with a punch. You know how rare that is. I am willing to give it all the brownie points for this alone.
It is pointless to harbour any misgivings about the casting, for eventually it makes no difference. No one seems out of place or inappropriate for the part. A fresh, young-looking Aamir Khan paints his Rancho in warm, glowing textures. Considering his own personal ability to articulate his beliefs with incisive points and instances, he extends the same courtesy onto the philosophical genius of Rancho. Hirani and his writer Abhijat Joshi tackle the logic of Rancho's inferences and wit keeping his scientific bend of mind and a tone that is typical to Engineering circles.
The ploy adds a novel flavour to pretty much everything about 3 Idiots -- its ideas, approach, humour, narrative and reactions. While there's no attempt to showcase an in-depth study into campus life, issues like ragging and region-based groupism are referred to as fun or passing.
From a filmmaker who's lived with the iconic Munnabhai for more than half a decade, this is an admirable effort and a challenge well met.
Ultimately though, 3 Idiots is the battle of two geeks -- the self-styled and the book worm. I know who I was rooting for. Looks like you did too. Hard luck, Chatur! ;)
Rediff Rating: