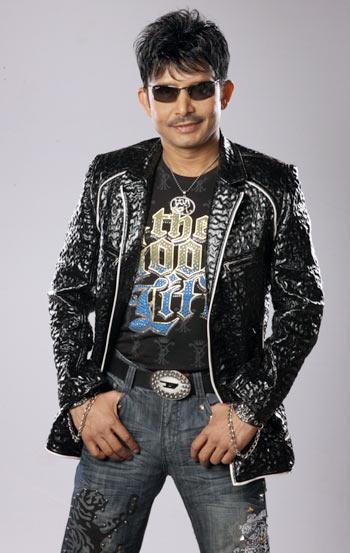 He flirted, fought and even served a 'jail term'. He bragged, threatened and almost punched up his housemates. He screamed, broke down and got thrown out -- garnering more mileage in 21 days than he could have gathered in his lifetime. And he may just return to your screens like the proverbial villain, who vows revenge before disappearing.  
Bhojpuri producer, actor, director and Bollywood aspirant at 49 years, Kamal Rashid Khan has successfully forged his image on the national consciousness with Bigg Boss 3.
Kamal-Desh Drohi-Khan, could not have asked for a better, bigger platform to show off his 'acting skills' and talk about his fabled wealth (he gave us the famous line -- 'I live in a 21k square feet apartment, my milk comes from Holland, tea from London...').
As far as appearances go, everything about this peculiarly turned out, self-proclaimed 'star' with a pronounced rustic flavour in his English, screamed for attention. Add to it, the temper of the devil and a matching tongue, and you have the perfect live matchstick in the tinderbox that is the Bigg Boss house.
Think about it. In Bollywood parlance, Khan was quite the paisa-vasool masala movie with everything -- song and dance, anger and romance, fist-fights and emotional drama and finally an act of 'supreme sacrifice' by relinquishing the winner's slot for a more 'deserving girl' (Sherlyn Chopra) who 'needs the money more than him'.
He even stumped the usually non-plussed Bachchan with his famous statement -- 'KRK is not such a small-time star to be evicted in the first week.'
If you believe Khan, his outrageously bad behaviour was 'calculated' to give his 'fans their money's worth'. He kept saying, he wanted to 'create an impact, leave a lasting mark'. Well, from the looks of it, had he not been ousted from the Bigg Boss house, there would have been a few broken bones as well. Perhaps, the actor took his 'angry-young-man' role-playing a bit too far at the end with his dangerous altercation with Mr Popular Raju Srivastav, and the whiny Rohit Verma.  
Last season's bad boy Raja Chaudhary was said to have a history of violence and physical abuse. But he managed to garner enough sympathy votes to survive till the end. Khan on the other hand, walked in with a clean slate, terrorised the housemates (Rohit Verma often had a nervous breakdown in his presence), humiliated the women and left the house in a self-righteous huff.
He was certainly not planning to get thrown out so soon, and in such a fashion. And no matter how hard he tries to convince the audience that he had actually 'planned to exit' and let Sherlyn stay on, the disappointment was all-too obvious. Khan is not that good an actor yet.
According to some reports, Kamal Rashid Khan (allegedly not his real name) is said to be from a small village in Bihar, who tried his luck in the film industry for a while without any success. Reports claim that he moved to Delhi and set up a garment export and immigration business for unskilled labour catering especially to the Middle East.
Sources also claim he has several properties in Mumbai, offices in Delhi, Kolkata, Chennai, Bangalore and Mumbai. He is allegedly married with two kids, his family is safely deposited in Dubai. That could explain why when Bachchan asked him about his 'real feelings' for Claudia (whom he had been hitting on for days), he confessed, 'It was a joke.' Or why he had been so touchy about his past and his fortunes. 
In Mumbai, Kamal Khan is easy to spot at second-grade parties and Bhojpuri film events, almost always with a jacket on (he carried half a dozen jackets to the Bigg Boss house), his gun pendant (which he calls his logo), women in his arms and a surprisingly cheerful, friendly disposition.
He is also known as a man with considerable clout -- both among political heavyweights and in the Bhojpuri film industry. Something that fuels his confidence. So much so, he even offered a role to Amitabh Bachchan in his next production. 
The resident bully is out of the Bigg Boss house. But let's face it, it can also mean no edge, no adrenalin, no entertainment for the voyeurs. 
Kamal Rashid Khan was audacious, arrogant, unpredictable and scary -- perfect for the TRPs. It was sheer guilty pleasure that had people glued to the show, just to find out how who was Khan's next victim, whose skull, jaw or spirit was about to be crushed. And the diminutive but spunky Kamal Khan rarely failed to deliver.   
But let's not get squeamish about Khan. Reality shows which thrive on bad behaviour, edgy, aggressive participants in slightly dysfunctional settings, have been all the rage abroad where it spawns a flourishing parallel industry. Anybody who has seen celebrity chef Gordon Ramsay literally skin alive the participants on his shows will know. Ramsay screams, kicks and uses the 'f' word every time he takes a breath. He freely hurls abuses and objects at people he hates, and the world is full of them.
Closer home, reality show audiences have been no stranger to violence, cuss words and shockingly brazen behaviour. MTV Roadies featured a finale episode where the top two contenders were dared to slap a girl. Finalist Ashutosh Kaushik not only slapped to win Roadies, but played hard to win Bigg Boss 2 as well.
 
As Kamal Khan cheekily pointed out in his parting interview with Bachchan, in a reality show you seldom get eye-balls for your good deeds.