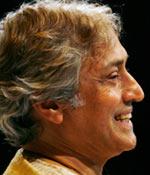 Ustad Amjad Ali Khan may have lost out on a Grammy win at the 52nd Grammy awards but the maestro is very happy for A R Rahman, who won two Grammies this year.
The Ustad was nominated in the Traditional World Music category for his album Ancient Sounds in collaboration with Iraqi oud artiste Rahim AlHaj.
Patcy N asks Ustadji about his loss.
Are you disappointed about losing at the Grammies?
No, not at all. I am happy that Rahman won an award because an Indian musician got it. Personally, I did not enter any kind of competition when we recorded the album Ancient Sounds in America, with Rahim AlHaj. We did not have any idea of the future of the album. The album's producer decided to enter the competition. I was not even aware until I was nominated.
You had said that the Grammy win was important because the sarod would become popular. Do you feel bad that the sarod may have to wait longer for attention?
I have been travelling for all over Europe and America for 20 years, so the sarod is already popular. Also, my country has given me many honours like the Padma Bhushan, Padma Vibhushan and a doctorate from Shantiniketan.
Douga Mansa won the Grammy in the category that you were nominated for. Have you heard his music?
No, I have never heard his work or the album which was nominated.
Do you think Rahman deserved the Grammy?
Yes. He is so young and committed to music. He has done a diploma from Trinity College. He gives a freshness to film music.
I like his music and the fact that he is young. The future of India is in the hands of young musicians, whether they are classical or film music composers.
I hope he creates more appealing and peaceful music for disturbed people so that they get peace and tranquillity. He will go a long way in life.
What are you working on right now?
I am writing orchestra symphony for the Scottish Chamber Orchestra, which will record in March in England. I also have some offers in collaborations. I think I should take them up to popularise my sarod. I am doing collaborations very late in life but I have realised that we have to show the world that we are one through music.
Video: Rahman thanks his audience
If you want to become a fan of Rahman, just click here!