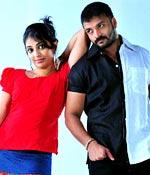 Jayasurya is one of the young actors, who is trying to become a bankable star in the Malayalam film industry. But even though he has played sidekick to the senior heroes and done negative roles to prove his versatility, solo hero projects have eluded him.
His new film Nallavan -- helmed by débutant Aji John – promised to show him off as an action hero in four different getups. But the story lacks the steam to make the character plausible. The narrative style seems to have been inspired by the recent violent Tamil movies. 
Kocherukkan (Jayasurya) is an orphaned simpleton living in a village in Pollachi. He does odd jobs for a rich man, played by Sai Kumar, and is in love with Malli (Mythili) who works as a maidservant in the same house.
Malli doubts the intentions of her boss and tells Kocherukkan so. He goes to the boss and asks for Malli's hand in marriage but is turned down. The rich man wants her to marry his dim-witted nephew, played by Suraj Venjaramoodu (who, once again, imitates Rajnikanth).
As expected, the lovers elope. From then on, the film takes a violent twist, bordering on gory. The protagonist turns into a criminal. The narrative, which has plenty of flashbacks, gets predictable and boring after a while.
To give the credit where it is due, Jayasurya looks sincere. He begins with conviction when he is in his familiar territory (humour) but loses steam when things turn serious.
Mythili does well as the chirpy girl.
Siddique, as the corrupt police officer, is the only notable performer among the supporting cast. Anoop Chandran and Biju Kuttan handle the comedy without much ho-hum.
There was much riding for Jayasurya on Nallavan. But except for the different getups, it does not have anything new to offer.
Rediff Rating: