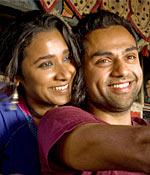 All roads lead to roam. Dev Benegal's new film, armed with a syntax-challenging title, is one of those wonderfully shot ruminations of a young clueless man trying to find himself.
He -- by which we mean both protagonist and filmmaker -- can't quite find his forte, but takes us along on a fanciful, unpredictable little diversion, a very pleasant hitchhike through bleak deserts we really ought to see more of.
The film is about slackjawed young loner Vishnu, played by Abhay Deol, an apathetic slacker who really doesn't seem to give a damn about anything. All he knows is that anything would be better than his actual stinking legacy -- he's a hair oil heir -- and escapes by way of delivering an old truck across Rajasthan.
On his way he encounters a motormouth chaiwallah determined on finding a better life, a grizzled old mechanic who knows the ways of the world and points them forward, and a comely young widow looking to forget.
In short, a perfectly family-photograph sized entourage heading to a makeshift Oz mela down the yellow brickless road.
It is, as you'd imagine, a charming film. Thanks mostly to Michel Amathieu's starkly stunning cinematography, the frames are what you take away from the film, frames of a blue, graffiti-led truck wheezing to a halt in the middle of Kutch, of a kid in a bright yellow tee-shirt and of a fat mechanic struggling to stand but never to smile.
The film is textured lovingly, the colours are beautiful and its slow, sluggish pace initially enchants as much as it eventually exasperates.
Yes, exasperates. For this film -- this pretty little waterless detour of a film -- falters because of inconsistency and the lack of a cohesive storyline.
It's neat and pretty and quite charming, but after a while shots of a truck framed by arid landscape begin to seem tiresome. There are moments of genuine surprise and cleverness, but these are often cancelled out by overdone moments, like an excessive fair that appears out of nowhere, or the unforgivably theatrical shot of filmstrips blowing in the wind.
Most of characters are interesting, without question. Deol's Vishnu is a lousy youth, a refreshingly blah leading man who is much less Hero than gormless Bystander.
Mohammad Faisal plays the nameless kid, full of pluck, street-smarts and a fair degree of weather-beaten selfishness.
Satish Kaushik's fantastic repairman, an enthusiastic rotund father-figure cloaked in hope and hashish, steals the show and is easily the finest thing in the film.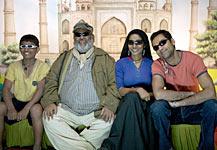 The performances are uneven, but generally enjoyable. Deol does well to stay sullen, but fails to exude any charm at all, and while this wouldn't normally be a problem -- indeed, it is always refreshing to see such an unconventional protagonist -- a hero without personality needs an actor dashing enough to bring some to the table, and Abhay here comes across as rather too bland to capture interest, to compel one to care.
Tannishtha Chatterjee is striking enough to be a believable banjaran, even though her track seems contrived. Faisal is fine, as is Virendra Saxena, cast against type. Yashpal Sharma brings about a smile as well, even though Deol's scene with him is possibly the movie's weakest point, a farcical moment that seems so out of place it's as if Kaushik forcefully pasted it in from another film's reel.
Vishnu's truck is a gaudy blue Chrysler from the 40s, one that used to be a traveling cinema. Kaushik -- who remembers his boyhood viewings of Alam Ara and the cinema of Harry Lloyd -- recognizes this, and uses cinema to coax cops into cooperation and villagers into merriment.
There are some fantastic moments whenever the old projector, aided by hair oil, whirrs into action, but not enough to make the film as fascinating as it deserved to be. The moments, intoxicated with Cinema Paradiso love, fondly show a film curtain billowing like the sails of a ship and clearly funny scenes unspooled over giggles and headlights, but there is inconsistency here too. One night's film screening shows clips from several, and the giddiness of the joy of cinema seems to have affected the film's reality.
The writing is clever, yet the dialogues frequently disappoint, clearly having been translated literally from smart English lines. Benegal's screenplay ends up, as we said, like Deol: it goes nowhere, driving aimlessly around in circles. And yet there are charming characters, and visuals to remember. It's a casual drive, short enough to not mind, long enough to leave you slightly tired.
Sometimes a ride is worth just what you see through the moving window.
Rediff Rating: