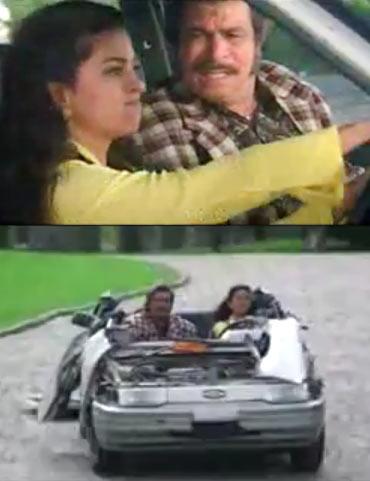 We asked readers to send us Bollywood bloopers that they have spotted.
Reader
Vaibhav Palnitkar
shares with us a blooper that he spotted in
 the 1997 movie, 
Mr And Mrs Khiladi
starring Akshay Kumar and Juhi Chawla.
There's a scene where Juhi takes her father -- played by Kadar Khan -- on a drive in a white car. When they first started out, Juhi is seen driving on the right side of the road.
After a series of shots where the car gets banged up, Juhi is seen driving on the left side of the road when she drops her father home.
Looks like the car stunts were performed in India with a Maruti Esteem while a smashed up Ford was used for the final shot.
Have you spotted any Bollywood bloopers recently?
Tell us about your favourite and funniest! Keep the Bollywood bloopers coming, guys!
Also Read: When Imran Khan got his lines crossed!
The clock that beat the earthquake

Aamir's googly in Lagaan
An electrifying moment in Tere Mere Sapne
Aamir travels by auto in South Mumbai!
Naseeb's car chase gone wrong!
The howler in Dhoom 2
Aati Kya Khandala? Wrong song, AB!
Aamir: Not always a perfectionist!
Kuch Kuch goof up hota hai!
What is the secret of Ajay Devgn, Kangna's youthfulness?
The glaring goof-up in 3 Idiots
When Salman broke his commitment
When Aamir went wrong!
Ash-Salman's big mistake!
When Big B, Aamir goofed up!
Aamir Khan goofed up in Jo Jeeta Wohi Sikander
Bollywood's movie bloopers