Sometimes scripts are written by numbers, like kids playing with blocks of LEGO. A setup here, a twist there, a plotpoint right after. Neeraj Vora's new Short Kut: The Con is On is essentially made up of vintage Priyadarshan bricks, from an unscrupulous funny guy to an earnest leading man to an ensemble of friendly neighbours all hurrying around a convoluted plot that, while not making actual sense if you think about it, passes by breezily enough to seem almost credible.
All well and good, and Short Kut manages reasonably well except for a fatal flaw in this join-the-dots kind of filmmaking: it's one thing to get all the elements in place, and wholly another to make the gags actually funny. So while there are obvious jokes in place, the lack of a strong cast and actual vim fail to get the first half off the ground, but all those setups ensure that the post-interval proceedings are engaging enough. By the time the Bowfinger-inspired climax comes around, chances are you're actually laughing.
At a time when 'comedies' seem to have become nothing but a mindless procession of gags, it's good to see writer Anees Bazmee come up with an actual plot. The points of conflict in Short Kut are authentic, and -- thanks to Akshaye Khanna's stoically solid performance -- you do end up feeling for the leading man as he undergoes severe trials and tribulations.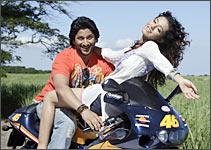 Khanna, in fact, is the finest thing in this film by a long shot as he plays a wannabe writer-director. It's hard to bring meat to a character doused in integrity, but Khanna manages to stay clean and keep it believable as his character struggles with heroine woes, betrayal and writer's block. Amrita Rao doesn't have much to do, occasionally looking nice and often not.
Arshad Warsi, as the villain of the piece, is loaded with lines and situations but the thought of being the leading man instead of a supporting actor seems to have pushed the otherwise talented comic actor into an unfortunate state of overdrive where he tries way too hard -- and that's never a good thing, especially with humour. He oversells the gags, hams it up and while he succeeds as coming across as a scumbag, it's a pity to see him waste a good opportunity. The supporting cast is plain ghastly.
Vora tries hard to bestow his film with good-humoured heart, but when the building blocks are this obvious the heart is invariably a Hallmark one and succeeds only in making the film maudlin where it shouldn't be. Still, at least it tries -- and doesn't descend into the moronic badly-written innuendo most films today thrive on. No, Short Kut is definitely more wannabe-Nukkad than wannabe-No Entry, and that has to be a good thing.
Short Kut had the potential to be a genuinely funny one, and while it mostly flubs that promise up throughout, it does manage a few moments. It could really do with a pretty significant re-edit, though.
Ah well. At least it's better than Kambakkht Ishq and New York put together.
Rediff Rating: