The howler in Dhoom 2
Last updated on: September 3, 2010 16:06 IST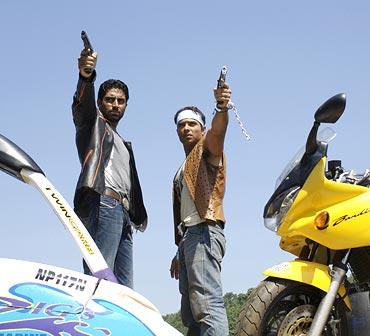 We asked readers to send us Bollywood bloopers that they have spotted.

Reader Sathish AJ shares with us a blooper that he spotted in the final chase sequence from the movie Dhoom 2.
Hrithik Roshan and Aishwarya Rai Bachchan escape on a motorbike, and are chased by Abhishek Bachchan and Uday Chopra in a helicopter.
At some point in the chase, Hrithik and Ash enter a tunnel with Abhishek and Uday in hot pursuit. Since the helicopter cannot enter the tunnel, the duo take the helicopter to the other end and get off on bikes, leaving the helicopter where it is.
But instead of meeting Hrithik and Ash from the front, the duo come from behind! And all of them end up heading towards the helicopter.
After a prolonged chase inside the tunnel, Hrithik and Ash somehow managed to escape and blow up the helicopter.
Now, since the helicoper has blocked the exit, how come we see vehicles still coming out from the other direction? Did the cars fly over the helicopter?
Have you spotted any Bollywood bloopers recently?
Tell us about your favourite and funniest! Keep the Bollywood bloopers coming, guys!
Also Read: 
Aati Kya Khandala? Wrong song, AB!
Aamir: Not always a perfectionist!
Kuch Kuch goof up hota hai!
What is the secret of Ajay Devgn, Kangna's youthfulness?
The glaring goof-up in 3 Idiots
When Salman broke his commitment
When Aamir went wrong!
Ash-Salman's big mistake!
When Big B, Aamir goofed up!
Aamir Khan goofed up in Jo Jeeta Wohi Sikander
Bollywood's movie bloopers